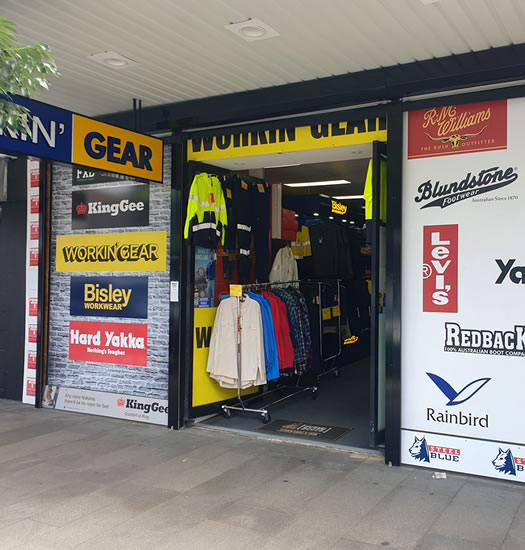 Workin' Gear is family owned and operated
Workin' Gear was established and opened in Penrith NSW at 556 High Street in 1985.
After 23 years at that address we had outgrown the premises and in July 2008 we relocated to a much larger and more central and convenient retail shop just up the road at 494 High Street Penrith NSW.
The business has traded successfully for the past 30 years.
We have a large customer base, supplying metropolitan Sydney and its surrounding suburbs, including The Blue Mountains. Now that we are trading online, we can sell anywhere. Workin' Gear Penrith shoe wall
Workin' Gear is one of the very original and first of its kind to start up in Australia. We sell all of the famous Australian brands including RM Williams, Akubra, Drizabone, Buckaroo Belts, Jackaroo Hats and virtually every workwear brand available in the country.
With over 90 styles of Work boots, Chef's wear, Safety equipment, Hi Vis Clothing and all the big brands of work wear. We are well known as a leader in our industry. We are very proud to have won the 2014 Penrith Local Business Awards under the category of Outstanding Specialised Retail Business and then also winning and being recognised as the Overall Gold Business Of the Year.
We provide a full screen printing and embroidery service for work uniforms.
Workin' Gear operates under the company name of Workin' Gear Pty Ltd (ABN 81 093 909 990) under the directorship of Pat and Shane Seears, who operate a sister business out of Canberra, ACT called Seears Workwear.
Customer Service, our Massive Range of Stock and an unrivalled commitment to you the client are the reasons for the success and growth of our business.
WE LOOK FORWARD TO BUSINESS WITH YOU IN THE FUTURE.
All our stock is sent via REGISTERED POST OR COURIERS PLEASE – AUSTRALIA WIDE AND NZ SHIPPING ONLY.
Why choose us?
Workin' Gear provide for the clothing and safety needs of virtually every kind of industry and worker alike. From building labourers, chefs, blue and white collar workers to major companies and Government Departments such as Defence, and hospitals.